Transcendent Healthcare Services
As a diversified, locally-owned and operated provider, Transcendent Healthcare, LLC is unique in the services it offers to Southwest Indiana. In addition to spacious rooms and a variety of service lines, Transcendent offers meal preferences and specialty diets served in an inviting dining environment. The facility utilizes its own therapists who specialize in geriatric in-patient and out-patient physical, occupational and speech-language therapies. We offer a satellite examination areas and therapy gyms to better work with collaborating physicians and practitioners. Below are some additional services that help to round out our care continuum.
Concierge Services
Transportation is provided to our residents and their families in state-of-the-art vans between medical appointments, family visits and social outings.
Rehabilitation Suites – Specially designed to accomodate those admitted form Short-Term and Rehabilitation-to-Home Programs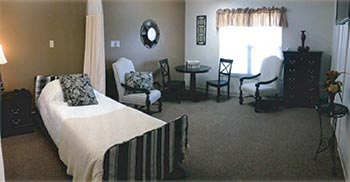 At  each Transcendent Healthcare  center, we provide a bridge between home care, extended care and the ever-shortened hospital stay. This program allows patients to pre-schedule a room, be introduced to nursing and therapy plans, and consultation to establish plans of care before surgery – all for your convenience and peace of mind. Private and semi-private rooms are available.
The Highly successful Transcendent Healthcare Rehabilitation Services, LLC, our wholly-owned therapy division employs over 44 physical, occupational and speech therapists and allows us to provide consistent and complementary in-patient and outpatient treatment at each of our facilities.
Our therapists specialize in the treatment of:
Joint Replacement
Hip Fractures
Cardiac Rehabilitation
Strokes/Neurological Disorders
Orthopedic Injuries
Multiple Traumas
Safety and Fall Risk
Post surgical wound sites
'Reservations Program' – Simplify your Surgery
Plans At Transcendent we coordinate rehabilitation services on your schedule. Before undergoing surgery, our therapy team works to coordinate your recovery plan with you and your physician, providing a personalized recovery/therapy plan. Whether your plan calls for outpatient therapy or a short stay, you simply call Transcendent to make your reservation.
'Seasons' Memory Care – Specializing in Alzheimer's and Dementia Care
Transcendent Healthcare of Boonville, LLC offers a 24 bed Seasons Care Community that provides daily programming in a secured and safe environment.
Outpatient Rehabilitation
Transcendent Heaklthcare Outpatient Services, LLC offers a vaiety of outpatient rehabilitation services for patients of all ages.  With locations in Warrck and Gibson County, this organization has by accredited by the American Association of Accreditation of Ambulatory Surgery Facilities' RA Accreditation Program and participates in a number of local and regional insurance networks.
Hospice Care
Transcendent HospiceCare, LLC will provide hospice and other end of life services for facility and community residents alike.
Home Care
 Through Transcendent HomeCare, LLC, Tri-state residents will take advantage of specialized nursing and therapy services in the privacy of their homes. These services represent a major advancement in healthcare for the community, our valued residents and customers.